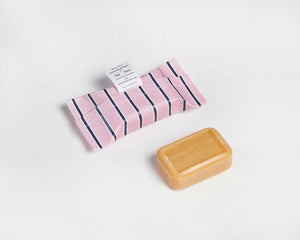 Pan After x Cousu De Fil Blanc - Hand Soap Miel
Pan After's Miel Hand Soap bar is handmade in France by artisans using traditional soap making methods, expelling a heavenly scent of Honey. Each soap is made from entirely natural ingredients and crafted by hand, by a master soap maker in a workshop in  Paris. Carefully wrapped in Pan After's limited edition paper and sewn with white string. 
Created in collaboration with Cousu De Fil Blanc, a Parisian company created by Textile Designer and Aromatherapist, Carole Dichampt. Their focus is on traditional craftsmanship and the processes of making apothecary, fragrances inspired by nature and their packaging inspired by the love of textiles. Cousu De Fil Blanc translates to 'sewn with white string', a detail showcased throughout all of their collections.

Made with organic produce and a 100% vegetable base, free from parabens and dyes and never tested on animals. 
Perfect as a hand soap on the basin, or tucked into the soak drawer if you don't want to unwrap it!

Ingredients: Sodium Palmate, Sodium pamkermelate, aqua (water), miel (honey), fragrance, fragrance (parfum), olea europea oil (olive oil), coumarin, linalool, geranoil, alpha-isomethylionone, iron oxydes and silica, tetrasoduyn etidronate. 
100g (3.5oz)