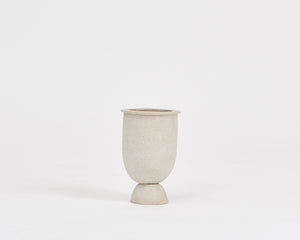 Nancy Kwon Mumun Vessel
Based in Los Angeles, artist Nancy Kwon draws much of her inspiration from ancient Korean ceramics and her formal training in Japanese pottery. She incorporates and reinterprets techniques and motifs into her work, echoing the fragmented and serene qualities found in relics and artifacts. A timeless and composed collection of stunning ceramics. 
The Mumun Vessel measures approx 19cm tall x 12cm wide.