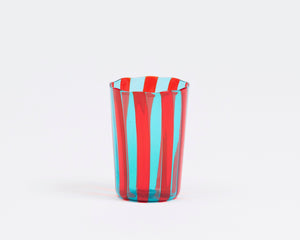 LagunaB 'Berlingot EVO' Tumbler - Marine Green / Orange
Based in Venice, Italy - LagunaB was founded in 1996 by Marie Brandolini when she reinterpreted the Goto de fornace. Ancient old glassmaking techniques are combined with contemporary design and sustainability as the company continues to create timeless and collectable glassware while leading the way for Murano's craft and culture. 
From the 'Berlingot Evo' collection each glass is handmade in Murano, Venice. 
Composed of melted glass sticks. 

Measures 11cm high x 6-7.5cm diameter.
Colour and size may vary slightly as each one is unique.