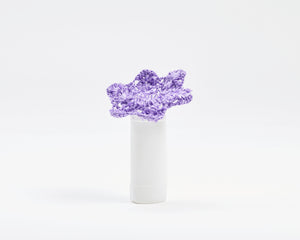 Juliet's Plastic Vessel 038
Plastic needs no introduction. As one of modern society's greatest triumphs — and shames — the everyday object, found in every house, in every slice of the globe makes life so easy, yet causes so much environmental destruction. However some artists, like Juliet Mandongwe, can breathe new life into these objects of utility — and waste — by playing up the material and championing the shape of something as ubiquitous as a bottle of laundry liquid.  
The Zimbabwean crafter, based in Cape Town, South Africa, presents much more than conceptual art pieces. Resourcefulness drives Mandongwe's ingenuity. Without the means to buy specialised art and craft materials, she creates decorative vases and vessels using discarded plastic bottles and rubbish bags. The result is a series of pieces that take on a form and character of their own. The bottles themselves show signs of their previous lives, but the artistry and craft transforms them into artistic sculptures in their own right.  
Juliet's resourcefulness turns our attention to the wider context of how we define value. These Plastic Bottles are simultaneously artefacts of personal consumption and craftsmanship. 
Please note, signs of use including small markings, scratches and imperfections are inherent attributes of these products and not defects. 
Juliet's Plastic vessel 038 measures 27cm high x 27.5cm wide.