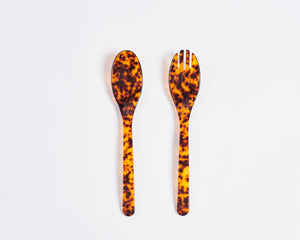 G.F Heim Söhne Salad Cutlery - Tortoiseshell
These salad servers are hand-crafted from plexiglass by long-established company G.F Heim Söhne. 
Established in Germany, 1862, G.F Heim Söhne quickly became one of the largest tortoiseshell manufacturing companies in Europe, specialising in making combs. By the early 1900's the company decided to shift away from the use of tortoiseshell in order to protect the tortoises and began experimenting with other, more ethical, materials. The protection of tortoises became paramount and following this new direction, the team developed 'Plexiglass', a high quality acrylic, as an alternative material to create their product range. 

Today, still operating from the original factory by the 5th and 6th generation of owners, G.F Heim Söhne continues to produce quality, carefully crafted products with a focus on form and design. Every single product is hand crafted using traditional methods, such as delicate craftsmanship developed through decades of working and intense study, and cannot be replicated by any machine. 

G.F Heim Söhne constantly strives to preserve the traditions handed down through the generations of the family, whilst creating beautiful kitchenware and cutleries for the home. 

Salad Cutlery measures 29cm.