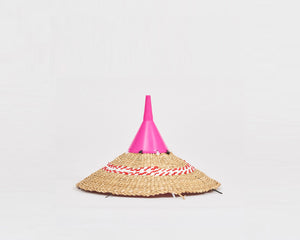 Funnel Light Shade - Large 005
Our collection of 'Funnel Shades' are handwoven by a community project in the Cape Town township of Dunoon. The project was established to provide women with employment and a safe working environment. Local river reed is collected and then handwoven with plastic funnels and cable ties to form a unique shade, where colours and individual details are chosen by the maker herself. Their free form shape and fun playful design makes each shade a sculptural like piece.
 Large measures roughly 35cm wide x 30cm high.
*Please note no additional electrical cabling is included.