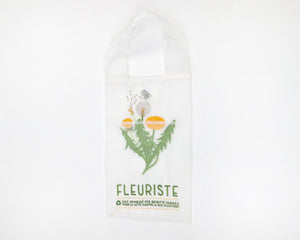 Brigitte Tanaka Organza Bag - Fleuriste Pissenlit
Brigitte Tanaka is the collaboration project between a French-Japanese duo of designers, with the purpose of producing an ecological bag akin to the plastic bag from stores that are familiar to the French. The result is a wonderful mixture of humour and homage to the traditional French way of life in their ongoing series of embroidered organza bags.
Handmade from Organza, these everyday bags feature simple lines and detailed embroidery. With wide market tote handles, they are light in weight and perfect to pop over your shoulder or carry on the arm. 

Use the Fleuriste Pissenlit Bag to hold and guard your fresh bouquet. 

Measures 40cm x 26cm