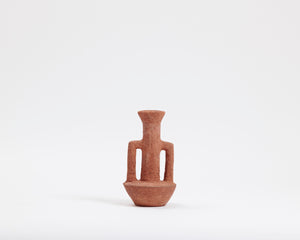 Jade Paton Vessel 002
Known for her bold and textural ceramics — ancient like vessels with a contemporary finish make up Jade Paton's evocative collection of beautifully proportioned pieces. 
Elemental in their form, these strongly built vessels and candle holders have subtle textures and charming detail heightened by a distinct combination of earthy and vivid colours. 
Based in Cape Town, South Africa, Jade's instinctual approach and signature style along with her background in fine-art sculpture delivers a substantial body of work that is both functional and ornate in nature. 


This piece is made from textured stoneware clay with a terracotta finish and glazed waterproof interior.. 
Vessel 002 measures roughly 18cm wide x 34cm high.