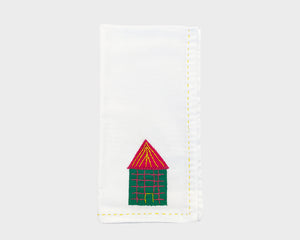 Embroidered 'Hut' Napkin 100
From Pan After's Tabletop Collection, celebrating the essence of 'a home' all over the world, each napkin features a unique hand-embroidered hut motif with a contrast stitch border. 
These napkins are made by the 'Maggie Project' - a community based project that employs, supports and empowers women and their craft. Based in Cape Town, South Africa the project allows women a safe working environment and a secure income while equally nurturing and teaching the art of sewing & embroidery.
Each napkin is one-of-a-kind, hand sewn on white cotton and embroidered with a unique hut design. 
100% cotton, cold wash and warm iron. Hut Napkin measures approx 44cm x 42cm.