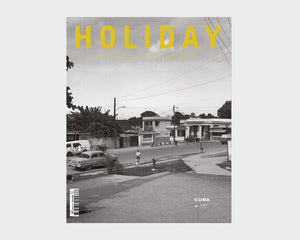 Holiday Magazine Issue 389-3
Holiday is an international, bi-annual publication. Renowned for its bold layout, literary credibility, and ambitious choice of photographers, Holiday portrayed the world like no other periodical. The premise was simple: send a writer and photographer to a specific location and ask them to capture their vision of the place without constraints of style, length or budget. The team who conceives, designs and produces the magazine is based in Paris. It is written in English, but its heart is French.
This issue features: journey to Cuba - an island like any other, an expanse of land surrounded by water, but it is actually a place like no other, with its unique history, people, beauty and scars. Since its mysteries and truths can only be grasped from the inside, the Cuban writers Leonardo Padura, Wendy Guerra and Karla Suárez have made their voices heard in this issue of Holiday, while the reporter Ed Augustin set out to encounter the Cuban people. Among the other articles are the story of the Buena Vista Social Club as told by an insider and an ode to Agnès Varda's documentary Salut Les Cubains.
Measures: 34.5 x 28 cm
Pages: 236
Binding: Soft cover