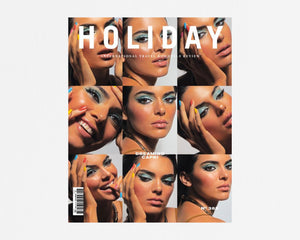 Holiday Magazine Issue 385
Holiday is an international, bi-annual publication. Renowned for its bold layout, literary credibility, and ambitious choice of photographers, Holiday portrayed the world like no other periodical. The premise was simple: send a writer and photographer to a specific location and ask them to capture their vision of the place without constraints of style, length or budget. The team who conceives, designs and produces the magazine is based in Paris. It is written in English, but its heart is French.
This issue features: Dreaming Capri - devoted to Capri and Environs. The cover of this issue is a montage of Kendall Jenner. Also featuring, Ragazzi e Ragazze di Capri by Bruce Weber, L'Avventura di Lola by Angelo Pennetta, Empire of the Sea by Eddie Wrey, American actress Marisa Berenson in Capri, September 1968, photographed by Slim Aarons, Scene at the beach in Capri; Photograph by Ferdinando Scianna.
Measures: 34.5 x 28 cm
Pages: 280
Binding: Soft cover