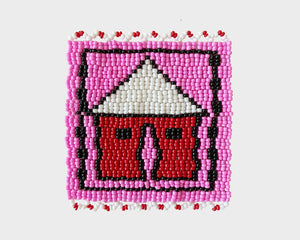 Beaded 'House' Coaster 332
Celebrating the essence of 'a home' all over the world, these coasters are carefully hand-crafted using traditional beading methods in Cape Town, South Africa by a group of talented artisans as part of a community project.


The not-for-profit project has employed over 450 beaders since it began in 1999 and continues to empower the lives of
crafters by providing them with a regular income and support as they strive to have dignity and pride in their work and their lives. 
Each coaster is one-of-a-kind, designed and made by the individual crafter in their own pattern and colour choice. 
Measures approx 10cm x 10cm.